Lok Adalat is meant for conciliated settlement of disputes outside Courts. It is also called People's Court. It provides fair and uncomplicated justice.
Family disputes like property requisition, financial disputes and matrimonial issues are widely and effectively solved by the Lok Adalats.
Lok Adalats are a boon to the litigating public, they can get their disputes settled fast and free of cost amicably.
Benefits of Lok Adalat
No Court Fee - No Court fee is required for placing the matter before the Lok Adalat. If Court fee has already been paid, the amount will be refunded to the litigants, if their dispute is settled in Lok Adalat according to the rules.
Procedural Flexibility and Speedy trial - The basic feature of Lok Adalat is the procedural flexibility and speedy trial of the disputes. There is no strict application of procedural laws like Civil Procedure Code and Evidence Act while assessing the claim by Lok Adalat.
Award of Lok Adalat - The award by the Lok Adalat is binding on the parties and it has the status of a decree of a Civil Court and it is non-appealable (except in certain situations) which prevents delay in the settlement of disputes finally.
LOK ADALAT IN SUPREME COURT
The Supreme Court Legal Services Committee is organizing Lok Adalat in the Supreme Court premises from time to time under the aegis of the National Legal Services Authority and different categories of matters which are complete, ready and are pending before the Hon'ble Supreme Court are being taken up in the Lok Adalat.

Statistics of the matters taken up and settled in the Lok Adalat during the last three years are given below :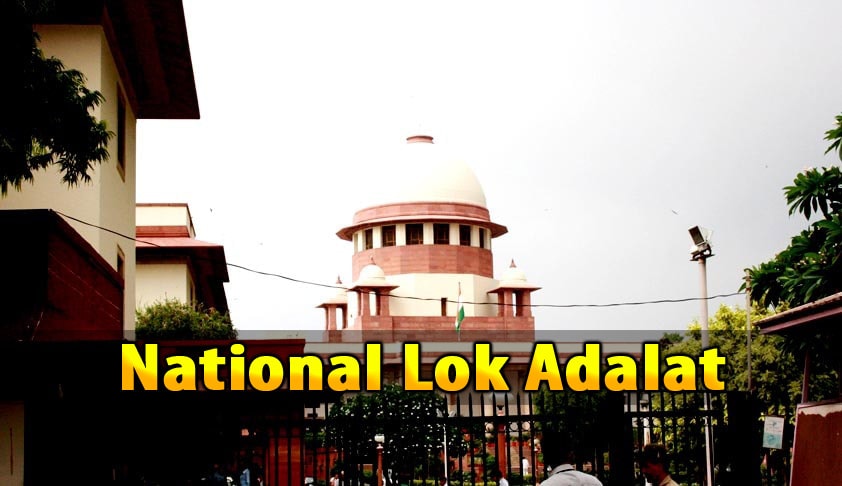 | | | |
| --- | --- | --- |
| Date of the Lok Adalat held in the Supreme Court | Number of matters listed in the Lok Adalat | Number of matters settled in the Lok Adalat |
| 12.11.2016 | 36 | 22 |
| 14.05.2016 | 15 | 07 |
| 08.08.2015 | 18 | 01 |
| 09.05.2015 | 51 | 24 |
| 11.04.2015 | 13 | 01 |
| 14.02.2015 | 194 | 09 |
| 06.12.2014 | 54 | 29 |